Text by: Carren Jao
Written during Toronto Film Festival 2009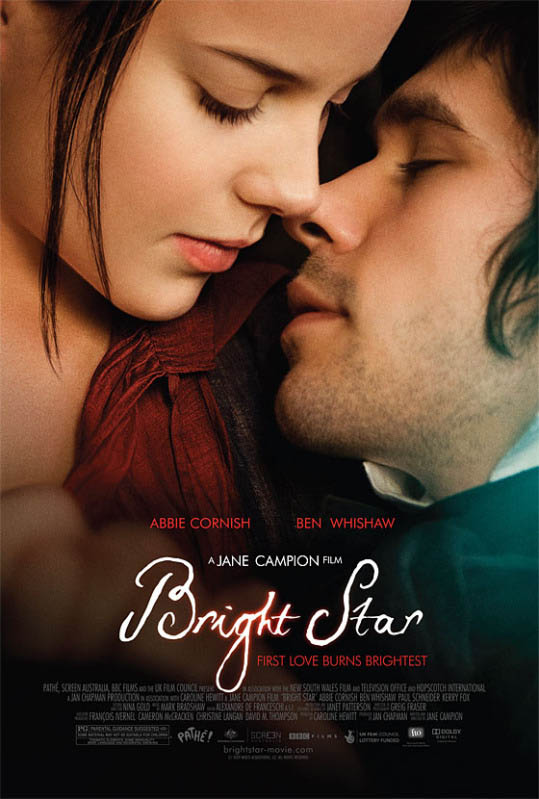 After writing and directing the modern day
psychological thriller In the Cut (starring Meg Ryan), Jane Campion (Portrait of a Lady, The Piano) returns to the historical genre that won her international fame. Instead of tackling heavy, sexually charged films, Campion now serves audiences lighter fare—a romance bathed in innocence and earnestness.
Based on actual love letters written between the great Romantic poet John Keats (Ben Whishaw) and his muse Fanny Brawne (Abbie Cornish), Bright Star wants to be the kind of movie that helps audiences experience the glory of great love, causing them to clasp their lover's hand just a little bit tighter. Sadly, it falls short of such grand ambitions. Instead, Bright Star offers a charming story of love that caresses the heart, but never pierces it.
Bright Star admirably depicts the couple's pent-up passion with hesitant touches and stolen kisses, but fails to give audiences a true reason to believe the depth of their love. The movie progresses so rapidly from their first meeting, to Brawne's unexplained concern for Keats' ailing brother, to their blossoming romance that I missed the moment when their romance turns from passing fancy to steadfast love.
Questions kept popping up in my head, preventing me from appreciating the unfolding story: Why did Brawne care so much for Keats' brother? If their romance was so frowned upon because she was rich and he was poor, why did Brawne's mother seem like such a passive figure? Where did this strange animosity between Keats' friend, Charles Brown, and Brawne come from? And why does it keep coming up?
What was most perplexing is Brawne's unwavering (unexamined?) love for Keats. Not one scene depicted any inner struggle that would lead to commitment. The romance felt destined, neatly wrapped with a shiny red ribbon, but audiences know love hardly ever works that way. I expected a grand romance, but came away with a puppy love of epic proportions. But perhaps, it is precisely the naïveté of their romance that will keep an audience weary of complicated love affairs enthralled.