Who knew such insects could be so amazing? I certainly didn't. It took an exhibition by Jennifer Angus at the Craft and Folk Art Museum for me to see bugs in a different light.
~*C
Working with an inventory of 30,000 bugs, Jennifer Angus arranges them into looping decorative patterns that'll probably make you a little queasy.
Text by: Carren Jao
Edited by: Cliff Kuang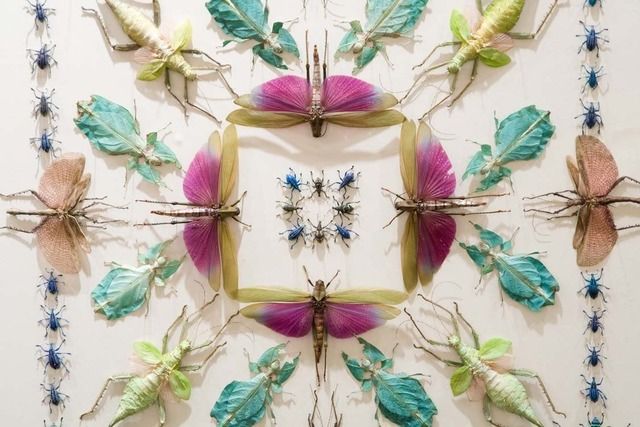 Not furry, cuddly or by any means cute, bugs always get a bad rap. At the sight of them, people reach for rolled-up newspapers and insect sprays. But to textile artist Jennifer Angus, insects are simply material for art. She's so comfortable with them that she'll handle bugs while eating a bag of chips. "It sounds a bit gross, I know," she says, laughing.
Since 1999, Angus has been using thousands of brightly colored insects to create kaleidoscopic patterns on the wall, thus short-circuiting our initial instinct for revulsion and replacing it with amazement. Angus has exhibited in art museums and science museums around North America. Her latest exhibition
All Creatures Great and Small
has visitors ewwww-ing and ahhh-ing over approximately 5,000 insects at the Craft and Folk Art Museum in Los Angeles now through September 11. [
read more and see the slideshow]